| | | |
| --- | --- | --- |
| Conference/Activity | Date | Status |
| Corporate Office | | Normal Service Operations |
| In-Person Program Service Activities Phase In | February 11 | |
| North Atlantic Regional Conference | March 4-6 | Virtual |
| Far Western Regional Conference | March 11-14 | Virtual |
| Mid-Western Regional Conference | March 18-21 | Virtual |
| Mid-Atlantic Regional Conference | March 25-28 | Virtual |
| South Eastern Regional Conference | April 8-11 | Virtual |
| South Atlantic Regional Conference | April 15-18 | Virtual |
| Great Lakes Regional Conference | April 14-18 | Virtual |
| Central Regional Conference | April 22-25 | Virtual |
| South Central Regional Conference | April 29-May 1 | Virtual |
| International Regional Conference | May 21-23 | Virtual |
| Membership Intake Process (MIP) | In Progress | Modified* |
| Chapter and Related Meetings | | Virtual |
| Foundation and Related Meetings | | Virtual |
| Leadership Fellows Conference | May 12-15 | Virtual |
| Executive Leadership Academy (ELA) | | Postponed |
| Ivy Beyond the Wall Ceremonies | | Postponed |
CHAPTER OPERATIONS
The Directorate is continuing to meet frequently to consider ways to safely resume in-person activities. Progress has been made to gradually bring sorority operations back on line and additional developments are in progress. However, the virtual mandate prohibiting in-person chapter and related meetings and foundation and related meetings remains in effect. This means that chapter and related meetings along with foundation and related meetings must continue to be conducted virtually until further notice.
MEMBERSHIP INTAKE PROCESS*
As you know, the Directorate authorized a modified Membership Intake Process on a limited basis for undergraduate chapters only that either were in process in the Spring of 2020 or had been approved to proceed with MIP in the Spring of 2020 when the virtual mandate was imposed. Based on the success of this pilot effort, the Directorate has now authorized expansion of this modified process to graduate chapters. The modified Membership Intake Process has been developed in consultation with the International Risk Management Task Force and the International Technology Committee to ensure the health and safety of all participants. Undergraduate Chapters must conduct MIP subject to university authorization. Graduate Chapters are strongly encouraged to conduct MIP.
PROGRAMS
The Directorate has continued to meet regularly to assess the effect of the pandemic on all aspects of sorority operations, including our programs of service. The Supreme Basileus, Regional Directors and other Directorate members have heard from sorors across Alpha Kappa Alpha who have petitioned to resume in-person service programs. Given the continuation of the pandemic with no end in sight for the foreseeable future, there is a need to determine how we can safely resume in-person service programs. To that end, the Directorate recently approved the recommendation of the Pandemic Task Force to begin phasing in in-person program initiatives at the discretion of the Regional Director subject to CDC guidance and adherence to strict safety protocols. The Directorate has approved safety protocols and the International Program Committee has developed a list of approved program service initiatives to guide chapters as they work to safely resume in-person programming. It is important to bear in mind that this phased-in rollout applies only to service initiatives and projects. All other activities, including, among other things, chapter meetings, committee meetings, foundation meetings and fundraisers will continue to be virtual until further notice. The Directorate thanks sorors for their commitment to proceed cautiously and to observe all of the health and safety guidelines as we gradually resume in-person activities.
RISK MANAGEMENT/FACE MASKS AND COVERINGS
Alpha Kappa Alpha continues to implore sorors to adhere to CDC guidelines regarding the use of masks and face coverings. We thank sorors for their cooperation and adherence over the past several months since the pandemic was declared. In light of the ongoing nature of the pandemic, the Directorate recently voted to relax the prohibition against certain AKA trademarks on masks and face coverings. Authorized vendors were recently informed that they may now manufacture and sell masks and face coverings bearing certain AKA trademarks subject to approval by the Corporate Office. Authorized vendors may not manufacture or sell masks bearing the sorority shield or any parts thereof. We urge sorors to assist in the enforcement of this prohibition by only supporting authorized vendors and by reporting any vendor who violates the licensing agreement and prohibition on use of the sorority shield by submitting the Vendor Infraction Form to the Corporate Office. Thank you in advance for your support and vigilance as we work together to protect and preserve our brand.
RITUALS
The International Rituals Committee has released a Virtual Memorial Tribute Guide to assist chapters in honoring and celebrating Ivies Beyond the Wall until chapters are authorized to gather in person for the official Ivy Beyond the Wall Ceremony. Access the Guide by clicking here. Please also be advised that the Directorate has authorized a solo or instrumental version of the hymn to be broadcast in a virtual setting. Please continue to refrain from reciting the pledge while we are still in a virtual mode. Thank you for your understanding and sisterly cooperation.

Thank you for continuing to join your region's Day of Prayer calls. Let us continue to pray for our sorors and all of the families impacted by COVID-19, healthcare workers, first responders and other essential workers, our sisterhood, this nation and our world. Please also pray for leadership and wisdom for national, state, and local leaders as they continue to make important decisions regarding our communities, businesses and schools. Let us also continue to pray for justice and equal protection under the law for African Americans in this country.

ADDRESSING COVID-19 VACCINE HESITANCY IN COMMUNITIES WITH SIGNIFICANT HEALTH DISPARITIES
By Isabella George A. Mensah, MD
The year 2020 has yielded twin crises in the United States: a global pandemic and a public reckoning with racism brought about by a series of publicized instances of police violence toward Black men and women. Current data indicate that nationally, Black Americans are three times more likely than White Americans to contract Covid-19 (with further variance by state), a pattern that underscores the more general phenomenon of health disparity among Black and White Americans. Once exposed, Black Americans are twice as likely to die of the virus. Unsurprisingly, Black Americans report higher levels of fear of Covid-19 than their White peers, but they also report higher levels of hesitancy toward a Covid-19 vaccine.
Read more here. You may also review the infographic information and presentation by clicking hyperlinks.
COVID-19 VACCINE HESITANCY: 12 THINGS YOU NEED TO KNOW
By Sherita Hill Golden, MD, MHS
Almost one year after the beginning of the coronavirus pandemic, the U.S. Food and Drug Administration (FDA) authorized the first COVID-19 vaccines, and people have started getting vaccinated. You may be considering what the COVID-19 vaccines mean for you and your family.
Read more here.
COVID-19 SAFETY REMINDERS
Nearly one-quarter of all Americans have now received at least one vaccine shot. Despite this fact, we must not allow COVID fatigue to cause us to let our guards down. Please continue to observe the three (3) Ws: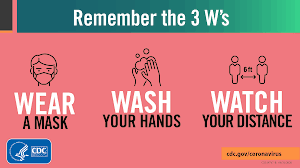 Members of the Directorate want to share their personal vaccine stories with you:
10 MYTHS ABOUT THE COVID-19 VACCINE THAT ARE NOT TRUE
Almost a year after COVID-19 was first seen in humans, vaccines to protect us from the virus are here. (The Pfizer and Moderna vaccines were the first to be approved for emergency use by the Food and Drug Administration, but more are surely coming.) Scientists and researchers worked quickly and thoroughly to find effective, safe vaccines that could be given to the public in record time. But as happens with everything that's new, rumors have been circulating about these vaccines. To set the record straight, Dennis Cunningham, M.D., medical director of infection control and prevention with Henry Ford Health System, debunks 10 vaccine myths.
Read more here.
NOTIFICATION PROTOCOLS
The integrity of sorority impact data is directly tied to the information collected. Who should I notify?
Notify your Chapter Basileus if you test positive for COVID-19.
General Members should notify your Regional Director if you test positive for COVID-19.
Undergraduate Members should notify your Graduate Advisor if you test positive for COVID-19, and the Graduate Advisor will notify the Basileus of the supervising Graduate Chapter.
Chapter Basilei should notify the Regional Director.
Inform your Chapter Basileus if you have been in close contact with other chapter members or sorors and where the contact occurred.
Chapter Basileus will notify only sorors who are at risk for possible exposure without divulging the infected soror's name.
Chapter Basileus will remind at-risk sorors to regularly monitor their symptoms and immediately notify their doctor if they become symptomatic.
Chapter Basileus will remind at-risk sorors to quarantine themselves and STAY AT HOME for 14 days to stop the spread of the virus in the event they become symptomatic and test positive.
HOW HAS COVID-19 AFFECTED ALPHA KAPPA ALPHA?
| | | |
| --- | --- | --- |
| Region | Reported Cases | Reported Deaths |
| North Atlantic | 89 | 3 |
| Mid-Atlantic | 102 | 4 |
| South Atlantic | 157 | 14 |
| Great Lakes | 49 | 5 |
| South Eastern | 168 | 3 |
| South Central | 246 | 6 |
| Central | 147 | 4 |
| Mid-Western | 38 | 6 |
| Far Western | 34 | 0 |
| International | 7 | 0 |
| TOTAL | 1,037 | 45 |
Visit https://www.worldometers.info/coronavirus/ for up-to-date worldwide COVID-19 statistics.

TWENTY PEARLS: THE STORY OF ALPHA KAPPA ALPHA SORORITY, INCORPORATED® PREMIERES!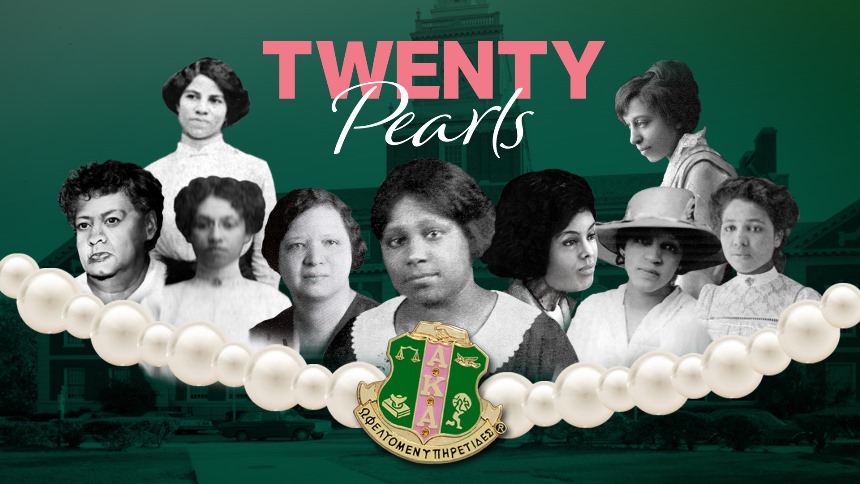 Narrated by Phylicia Rashād, Twenty Pearls journeys through 113 provocative years and tells the story of a powerful sisterhood founded in 1908 by nine college women enrolled at Howard University, only 40 years after the emancipation of enslaved African Americans. The vision of those nine women would become Alpha Kappa Alpha Sorority and grow to include more than 300,000 members. Their collective determination, service and advocacy directly influenced some of the most significant watershed moments in American history. Through narration, interviews and archival assets, viewers will learn about the sorority's impact on the Harlem Renaissance, World War II, NASA, Civil Rights, Women's Rights, and Historically Black Colleges and Universities (HBCUs) culminating in the election of Alpha Kappa Alpha member and the first woman, African-American and Asian-American Vice President, Kamala Harris. Twenty Pearls features interviews with Alpha Kappa Alpha International President and CEO Dr. Glenda Glover, Vice President Kamala Harris, Miss Universe Ireland Fionnghuala O'Reilly, Smithsonian Institute Secretary Lonnie Bunch, and many more.

The sorority hosted a sorority-wide screening on Friday, March 26 followed by a special post-premiere panel. The film will premiere nationwide on various cable and streaming platforms on Tuesday, March 30. Proceeds will benefit EAF.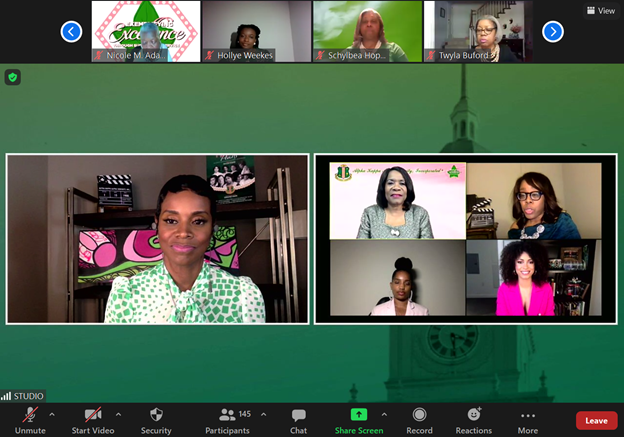 20 Pearls post-premiere panel moderated by Soror Rashan Ali.

Soror Glenda Glover
Supreme Basileus
Soror Joy Elaine Daley, International Regional Director (Chairman)
Soror Kimberly Esmond Adams, Special Assistant & Risk Management Task Force Chairman (Co-Chairman)
Soror Danette Anthony Reed, First Supreme Anti-Basileus
Soror Jasmyne E. McCoy, Second Supreme Anti-Basileus
Soror Cynthia D. Howell, Executive Director of Alpha Kappa Alpha Sorority, Inc.
Soror Martha Perine Beard, Chief of Staff to the Supreme Basileus
Soror Ora B. Douglass, Program Committee Chairman
Soror Cynthia J. Finch, MIP Committee Chairman & Healthcare Professional
Soror Jasmine Adkins Moore, Disaster Relief Committee Chairman
Soror Kasey D. Coleman, Leadership Development Committee
Soror Carol R. Dixon, Corporate Strategic Partners Committee
Soror Kaylen D. Long, Membership Committee
Soror Hollye J.V. Weekes, Program Committee
Soror Robyn R. Jones, Physician & Medical Director for Women's Health