| | | |
| --- | --- | --- |
| Conference/Activity | Date | Status |
| Corporate Office | | Normal Service Operations |
| Mass Committee Meeting | August 19-21 | Limited Participation for Vaccinated Sorors Only |
| International Day of Prayer | August 21-22 | Limited Participation for Vaccinated Sorors Only |
| Undergraduate Round Up | Fall 2021 | At the Discretion of the Regional Director |
| Regional Cluster Meetings | Fall 2021 | At the Discretion of the Regional Director |
| Executive Leadership Academy (ELA) | October 13-15 | Limited Participation for Vaccinated Sorors Only |
| Ivy Beyond the Wall Ceremonies | | Participation Limited to 50 Vaccinated Sorors |
| Membership Intake Process (MIP) | | Modified (Additional Updates Forthcoming) |
| Chapter Executive Committee Meetings | | Participation Limited to 50 Vaccinated Sorors |
| Chapter and Committee Meetings & Retreats | | Virtual |
| Chapter Service Projects | | Participation Limited to 50 Vaccinated Sorors |
| Foundation and Committee Meetings & Retreats | | Virtual |
A MESSAGE FROM THE SUPREME BASILEUS REGARDING CHAPTER OPERATIONS UPDATE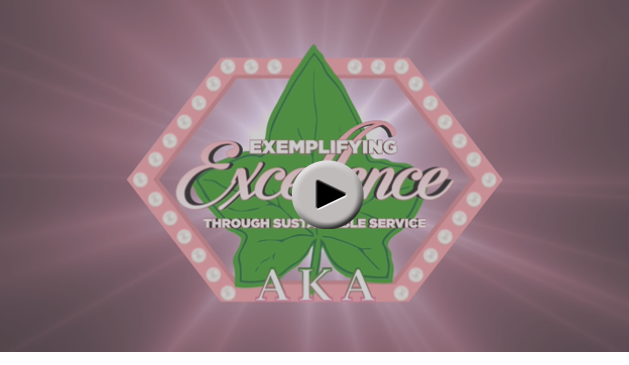 SORORITY OPERATIONS UPDATE
The Pandemic Task Force has worked tirelessly to monitor developments pertaining to the COVID-19 Pandemic and consider ways to gradually and safely phase-in in-person programs, operations and activities.
The Directorate, at its June 6 meeting, approved two significant updates to our Phase-In Plan.
The first update is that Chapter Executive Committees may hold in-person meetings starting immediately. In-person participation is limited to Executive Committee members who have been fully vaccinated.
The second update is that Ivy Beyond the Wall Ceremonies may be held in person starting immediately. In-person participation is limited to a maximum of (50) fully vaccinated sorors.
The guidelines regarding in-person community service programs remain in effect. The number of participants has been increased to 50 fully vaccinated sorors.
Groups of no more than 50 sorors are authorized to gather for sisterly relations and social activities provided all sorors participating have been fully vaccinated. This decision is based largely on recent visits by the Supreme Basileus to various cities where small groups of sorority leaders who have been fully vaccinated were convened in person to receive information and updates regarding sorority operations.
Proof of vaccination is required. Chapters must develop and implement protocols to verify vaccination status for any in-person event.
Please be mindful that all of these in-person phase-in updates must follow CDC guidelines, including masking and social distancing, in addition to state and local regulations.
Requests from chapters to resume in-person operations in the fall are being received. Be assured that the Directorate with input from the Pandemic Task Force continues to explore all options that will allow us to safely resume full in-person operations.
The key to resuming normal operations is vaccinations. All sorors are encouraged to get vaccinated. The Corporate Office has conducted a survey to determine the percentage of sorors who have been vaccinated. Thank you to all who participated and thank you again for your service and for your cooperation as we continue to Exemplify Excellence Through Sustainable Service with your health and safety as our top priority.
MEMBERSHIP INTAKE PROCESS ENHANCEMENTS COMING SOON!
A Roadmap Supplemental Toolkit for the 2021 Modified Membership Intake Process will be included in the Fall 2021 Mailing. The International MIP Committee and International Risk Management Committee under the direction and leadership of the Supreme Basileus have continued to collaborate in light of the ongoing pandemic and the availability of vaccines to further safeguard the health and safety of our members and prospective members by enhancing the following documents:
Risk Mitigation Plan and Checklist

Requirement for all individuals (i.e., members and candidates) involved in MIP activities to be fully vaccinated and to show proof of vaccination
Specific safety protocols to ensure compliance with in-person MIP activities
Testing and reporting requirements

Candidate Commitment Statement and Waiver of Liability
The International MIP Committee anticipates that these documents will be made available in the coming weeks. Thank you for your continued diligence and adherence to these protocols which have been carefully designed to facilitate a safe membership intake process.
INTERNATIONAL PROGRAM COMMITTEE PHASE-IN PROGRAMS UPDATE
Please be sure to review all of the operational updates and to share the graphic below with chapter members to ensure the in-person program guidelines are understood and followed. Each of us must do our part!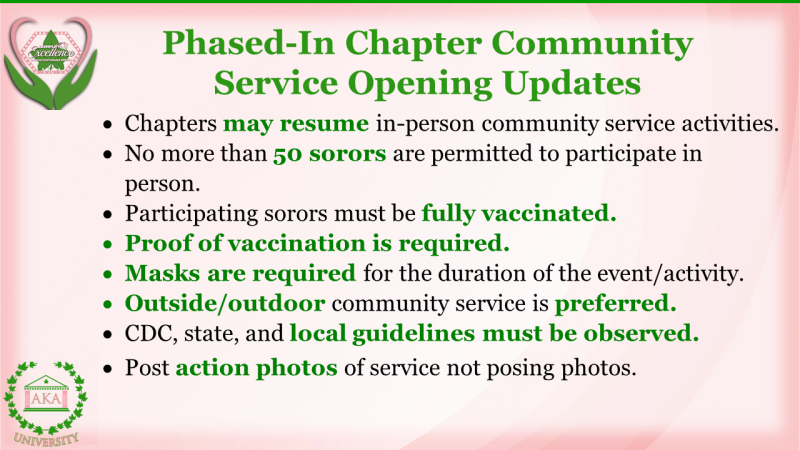 Thank you for continuing to join your region's prayer calls. Let us continue to pray for our sorors and all of the families impacted by COVID-19, healthcare workers, first responders and other essential workers, our sisterhood, this nation and our world. Please also pray for leadership and wisdom for national, state, and local leaders as they continue to make important decisions regarding our communities, businesses and schools. Let us also continue to pray for justice and equal protection under the law for African Americans in this country.

COVID-19 VACCINE SURVEY
The sorority conducted its first, official vaccination survey. We are pleased that more than 27,474 responses were collected. Of the respondents which comprise more than a quarter of the sorority's financial membership, 25,525 (92.91%) members reported being fully vaccinated. Of the 1,949 members that have not been vaccinated, 38.65% cited safety and efficacy concerns as a reason for not receiving the vaccine. Thank you for your candid responses, particularly those members who have not been vaccinated. Your responses help the sorority determine what additional steps are necessary to safely resume full sorority operations and inform the sorority's efforts to address vaccine hesitancy. We anticipate additional surveys in the coming months and solicit your participation with those efforts. A snapshot of the responses to the first survey is below.
"IT'S TOO LATE": ALABAMA DOCTOR SHARES FINAL MOMENTS OF COVID PATIENTS, URGES VACCINATION
By Antonio Planas
A doctor in Alabama pleaded on Facebook this week for Covid-19 skeptics to get vaccinated — unlike some of her patients who paid the ultimate price.
Dr. Brytney Cobia's impassioned and sobering Facebook post from Sunday has been widely circulated on social media. The Birmingham physician said people are listening to her firsthand accounts of treating critical patients who regret never getting inoculated.
"I'm admitting young healthy people to the hospital with very serious COVID infections. One of the last things they do before they're intubated is beg me for the vaccine. I hold their hand and tell them that I'm sorry, but it's too late,"" she wrote.
Read more here.
NOTIFICATION PROTOCOLS
The integrity of sorority impact data is directly tied to the information collected. Who should I notify?
Notify your Chapter Basileus if you test positive for COVID-19.
General Members should notify your Regional Director if you test positive for COVID-19.
Undergraduate Members should notify your Graduate Advisor if you test positive for COVID-19, and the Graduate Advisor will notify the Basileus of the supervising Graduate Chapter.
Chapter Basilei should notify the Regional Director.
Inform your Chapter Basileus if you have been in close contact with other chapter members or sorors and where the contact occurred.
Chapter Basileus will notify only sorors who are at risk for possible exposure without divulging the infected soror's name.
Chapter Basileus will remind at-risk sorors to regularly monitor their symptoms and immediately notify their doctor if they become symptomatic.
Chapter Basileus will remind at-risk sorors to quarantine themselves and STAY AT HOME for 14 days to stop the spread of the virus in the event they become symptomatic and test positive.
AKA SUPPORTS VACCINATION
Use your social media accounts to encourage sorors, family and friends to get vaccinated TODAY. It will save lives and help us to get back to some senses of normalcy! Use the frames below to update your profile picture on your social media platforms.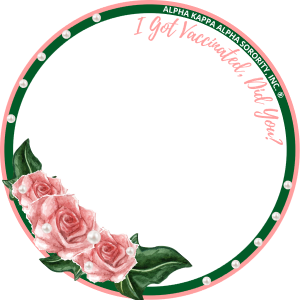 VIRTUAL PROGRAMMING COLLABORATION EXELLENCE RESULTING IN $100K
FOR SCHOLARSHIPS AND PROGRAMS
The Pearl and Ivy Educational Foundation (PIEF) in collaboration with Alpha Kappa Alpha Sorority, Inc.® Xi Omega Chapter in Washington, DC, under the leadership of Basileus April Gaines-Jernigan, raised over $100,000 in scholarship funds for college-bound students in the Washington, DC metro area. Determined to continue a decade-long tradition, and in spite of the obvious obstacles, the decision was made in 2020 to pivot the 11th Annual Pink Hat Tea to a virtual experience. Through unprecedented support, sponsorships, and ticket sales, the Pink Hat Tea exceeded its financial target. Previously, the goal was to raise $40,000 with $30,000 going to scholarships and $10,000 going to chapter programs. Since the 2020 event was canceled, the committee decided to challenge itself and raise funds to secure scholarships for two years. Through the 11th annual Pink Hat Tea, we are proud to announce that $40,000 was raised in 2020 and awarded in 2021, and with monies raised in 2021, a combined total of over $100,000 will be awarded.
Kudos to the PIEF and Xi Omega Chapter Pink Hat Tea Co-Chairs, Soror Pamela Bell Payton and Soror Crystal L. Bailey, who were joined by Soror Linda Gill-Anderson who served as the Virtual Program Manager.

Soror Glenda Glover
Supreme Basileus
Soror Joy Elaine Daley, International Regional Director (Chairman)
Soror Kimberly Esmond Adams, Special Assistant & Risk Management Task Force Chairman (Co-Chairman)
Soror Danette Anthony Reed, First Supreme Anti-Basileus
Soror Jasmyne E. McCoy, Second Supreme Anti-Basileus
Soror Cynthia D. Howell, Executive Director of Alpha Kappa Alpha Sorority, Inc.
Soror Martha Perine Beard, Chief of Staff to the Supreme Basileus
Soror Ora B. Douglass, Program Committee Chairman
Soror Cynthia J. Finch, MIP Committee Chairman & Healthcare Professional
Soror Jasmine Adkins Moore, Disaster Relief Committee Chairman
Soror Kasey D. Coleman, Leadership Development Committee
Soror Carol R. Dixon, Corporate Strategic Partners Committee
Soror Kaylen D. Long, Membership Committee
Soror Hollye J.V. Weekes, Program Committee
Soror Robyn R. Jones, Physician & Medical Director for Women's Health