| | | |
| --- | --- | --- |
| Conference/Activity | Date | Status |
| Corporate Office | | Normal Service Operations |
| Undergraduate Round Up | Fall 2021 | At the Discretion of the Regional Director |
| Regional Cluster Meetings | Fall 2021 | At the Discretion of the Regional Director |
| Executive Leadership Academy (ELA) | October 13-15 | Limited Participation for Vaccinated Sorors Only |
| Ivy Beyond the Wall Ceremonies | | Participation Limited to 50 Vaccinated Sorors |
| Membership Intake Process (MIP) | | Modified (Additional Updates Forthcoming) |
| Chapter Executive Committee Meetings | | Participation Limited to 50 Vaccinated Sorors |
| Chapter and Committee Meetings & Retreats | | Virtual |
| Chapter Service Projects | | Participation Limited to 50 Vaccinated Sorors |
| Foundation and Committee Meetings & Retreats | | Virtual |
CHAPTER OPERATIONS
Proof of vaccination is required. Chapters must develop and implement protocols to verify vaccination status for all in-person event.
Please be mindful that all of these in-person phase-in updates must follow CDC guidelines, including masking and social distancing, in addition to state and local regulations.
Requests from chapters to resume in-person operations in the fall are being received. Be assured that the Directorate with input from the Pandemic Task Force continues to explore all options that will allow us to safely resume full in-person operations.
The key to resuming normal operations is vaccinations. All sorors are encouraged to get vaccinated. The Corporate Office conducted a survey to determine the percentage of sorors who have been vaccinated. Thank you to all who participated and thank you again for your service and for your cooperation as we continue to Exemplify Excellence Through Sustainable Service with your health and safety as our top priority.
MEMBERSHIP INTAKE PROCESS
A Roadmap Supplemental Toolkit for the 2021 Modified Membership Intake Process will be included in the Fall 2021 Mailing and has been made available to Chapter Basilei, Graduate Advisors and Membership Chairmen.
Full vaccination required: no exceptions. Please note that sorors and candidates must be fully vaccinated to participate in the Membership Intake Process. There are no exceptions.
Home tests not acceptable. Please also note that home tests are currently not acceptable to prove your negative COVID status.
The International MIP Committee and the International Risk Management Committee under the direction and leadership of the Supreme Basileus will continue to collaborate in light of the ongoing pandemic and the availability of vaccines to further safeguard the health and safety of our members and prospective members. To that end, the following documents have been updated:
Risk Mitigation Plan and Checklist

Requirement for all individuals (i.e., members and candidates) involved in MIP activities to be fully vaccinated and to show proof of vaccination
Specific safety protocols to ensure compliance with in-person MIP activities
Testing and reporting requirements

Candidate Commitment Statement and Waiver of Liability
The guidance in some of these areas is fluid and the scientists don't always agree. Be assured that the Pandemic Task Force will continue to work diligently to stay abreast of pandemic-related developments and to communicate any operational updates from the Supreme Basileus and Directorate based on the most recent guidance from the Centers for Disease Control and Prevention as timely as possible.
INTERNATIONAL PROGRAM COMMITTEE
Alpha Kappa Alpha will host Part II of the Mississippi Health Project 2 on October 4-6 in the Mississippi Delta. We will return to the region once again to provide critical healthcare services to the residents of the Delta. We will observe Breast Cancer Awareness Impact Day on Monday, October 4 and travel throughout the Delta for the next two days providing free mammograms, COVID-19 testing, vaccinations, flu shots and other essential medical services.
RISK MANAGEMENT COMMITTEE
The newly-designated International Risk Management Committee is gratified by the calls, text and inquiries received from chapter leaders about ways to safely resume in-person programming subject to the limitations imposed by the Directorate to ensure the health and safety of our members. Please be reminded that chapters are required to have COVID-19 safety protocols and procedures for all in-person activities and events, not just MIP. Click here to access a Risk Mitigation Outline to assist your chapter. You also may access the COVID-19 Questionnaire and Waiver here.
SUPREME BASILEUS APPOINTS CHIEF MEDICAL OFFICER LEADING UP TO MHP II PART 2
Leading up to the historic reprise of our landmark medical initiative, Mississippi Health Project II, Supreme Basileus Glenda Glover has appointed Dr. Ala Stanford Chief Medical Officer for Alpha Kappa Alpha Sorority, Incorporated. Dr. Stanford, a practicing physician for 24 years, is board certified by the American Board of Surgery in both pediatric and adult general surgery and is a healthcare advocate. She is the Founder & CEO of The Black Doctors COVID-19 Consortium (BDCC). She was initiated at the Delta Gamma Chapter on the campus of Penn State University and is currently a member of Rho Theta Omega Chapter in Pennsylvania, PA.
Read more about Dr. Stanford here.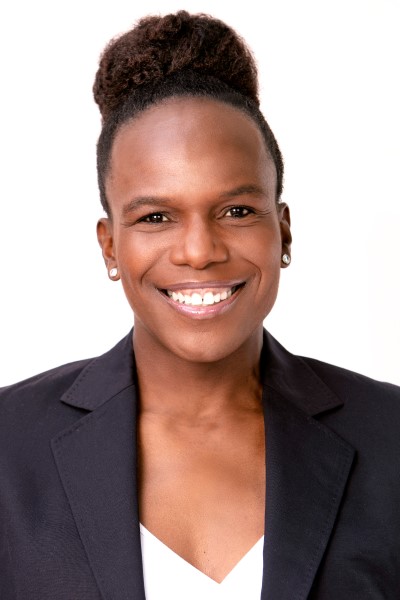 Dr. Ala Stanford, MD, FACS, FAAP

Thank you for continuing to join your region's prayer calls. Let us continue to pray for our sorors and all of the families impacted by COVID-19, healthcare workers, first responders and other essential workers, our sisterhood, this nation and our world. Please also pray for leadership and wisdom for national, state, and local leaders as they continue to make important decisions regarding our communities, businesses and schools. Let us also continue to pray for justice and equal protection under the law for African Americans in this country.

Joint Statement from HHS Public Health and Medical Experts on COVID-19 Booster Shots
Today, public health and medical experts from the U.S. Department of Health and Human Services (HHS) released a statement on the Administration's plan for COVID-19 booster shots for the American people.
"The COVID-19 vaccines authorized in the United States continue to be remarkably effective in reducing risk of severe disease, hospitalization, and death, even against the widely circulating Delta variant. Recognizing that many vaccines are associated with a reduction in protection over time, and acknowledging that additional vaccine doses could be needed to provide long lasting protection, we have been analyzing the scientific data closely from the United States and around the world to understand how long this protection will last and how we might maximize this protection. The available data make very clear that protection against SARS-CoV-2 infection begins to decrease over time following the initial doses of vaccination, and in association with the dominance of the Delta variant, we are starting to see evidence of reduced protection against mild and moderate disease. Based on our latest assessment, the current protection against severe disease, hospitalization, and death could diminish in the months ahead, especially among those who are at higher risk or were vaccinated during the earlier phases of the vaccination rollout. For that reason, we conclude that a booster shot will be needed to maximize vaccine-induced protection and prolong its durability."
Latest Data on COVID-19 By Race/Ethnicity
As of this week, 77% of the adult population in the United States have received at least one dose of a COVID-19 vaccine. While this progress represents a marked achievement in vaccinations that has led to steep declines in COVID-19 cases and deaths, vaccination coverage—and the protections provided by it—remains uneven across the country. With the continued spread of the more transmissible Delta variant, cases, hospitalizations, and deaths are rising, largely among unvaccinated people. While as of September 21, 2021, White adults accounted for the largest share (60%) of unvaccinated adults, Black and Hispanic people remain less likely than their White counterparts to have received a vaccine, leaving them at increased risk, particularly as the variant spreads. However, the data show that these disparities are narrowing over time, particularly for Hispanic people.
Reaching high vaccination rates across individuals and communities will be key for achieving broad protection through a vaccine, mitigating the disproportionate impacts of the virus for people of color, and preventing widening racial health disparities going forward. The Centers for Disease Control and Prevention (CDC) has indicated that vaccine equity is an important goal and defined equity as preferential access and administration to those who have been most affected by COVID-19.
The Unseen COVID-19 Risk for Unvaccinated People
The country's declining covid-19 case rates present an unrealistically optimistic perspective for half of the nation — the half that is still not vaccinated.
As more people receive vaccines, covid-19 cases are occurring mostly in the increasingly narrow slice of the unprotected population. ...[I]n some places, the virus continues to rage among those who haven't received a shot.
NOTIFICATION PROTOCOLS
The integrity of sorority impact data is directly tied to the information collected. Who should I notify?
Notify your Chapter Basileus if you test positive for COVID-19.
General Members should notify your Regional Director if you test positive for COVID-19.
Undergraduate Members should notify your Graduate Advisor if you test positive for COVID-19, and the Graduate Advisor will notify the Basileus of the supervising Graduate Chapter.
Chapter Basilei should notify the Regional Director.
Inform your Chapter Basileus if you have been in close contact with other chapter members or sorors and where the contact occurred.
Chapter Basileus will notify only sorors who are at risk for possible exposure without divulging the infected soror's name.
Chapter Basileus will remind at-risk sorors to regularly monitor their symptoms and immediately notify their doctor if they become symptomatic.
Chapter Basileus will remind at-risk sorors to quarantine themselves and STAY AT HOME for 14 days to stop the spread of the virus in the event they become symptomatic and test positive.
AKA SUPPORTS VACCINATION
Continue to use your social media accounts to encourage sorors, family and friends to get vaccinated TODAY. It will save lives and help us to get back to some senses of normalcy! Use the frames below to update your profile picture on your social media platforms.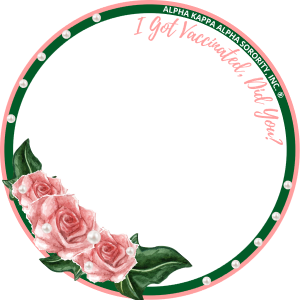 SERIOUS MATTER TOWN HALL SERIES MODERATED BY SOROR STAR JONES

VACCINES AND VARIANTS
On August 24, Alpha Kappa Alpha hosted the fifth installment in the Serious Matter Town Hall Series. Four dynamic and well-respected sorors comprised the panel that discussed the COVID-19 vaccines and variants. The panelists were: Dr. Patrice Harris, Immediate Past President, American Medical Association; Dr. Ala Stanford, Pediatric & General Surgeon and Founder & CEO, The Black Doctors COVID-19 Consortium; Dr. Sharrelle Barber, Social Epidemiologist and Assistant Professor at Drexel University; and Dr. Robyn Jones, Obstetrician-Gynecologist and AKA Pandemic Task Force Member. Soror Star Jones skillfully moderate this panel of heavy hitters who brought clarity, compassion and conviction to these topics in ways that sorors appreciated. Nearly 4,000 sorors tuned in to watch this timely and relevant discussion, and there have been nearly 7,000 views on the Alpha Kappa Alpha You Tube channel to date. If you missed the Vaccines and Variants Town Hall, you can watch here.

Soror Glenda Glover
Supreme Basileus
Soror Joy Elaine Daley, International Regional Director (Chairman)
Soror Kimberly Esmond Adams, Special Assistant & Risk Management Task Force Chairman (Co-Chairman)
Soror Danette Anthony Reed, First Supreme Anti-Basileus
Soror Jasmyne E. McCoy, Second Supreme Anti-Basileus
Soror Cynthia D. Howell, Executive Director of Alpha Kappa Alpha Sorority, Inc.
Soror Martha Perine Beard, Chief of Staff to the Supreme Basileus
Soror Ora B. Douglass, Program Committee Chairman
Soror Cynthia J. Finch, MIP Committee Chairman & Healthcare Professional
Soror Jasmine Adkins Moore, Disaster Relief Committee Chairman
Soror Kasey D. Coleman, Leadership Development Committee
Soror Carol R. Dixon, Corporate Strategic Partners Committee
Soror Kaylen D. Long, Membership Committee
Soror Hollye J.V. Weekes, Program Committee
Soror Robyn R. Jones, Physician & Medical Director for Women's Health